A New Redevelopment Plan for SF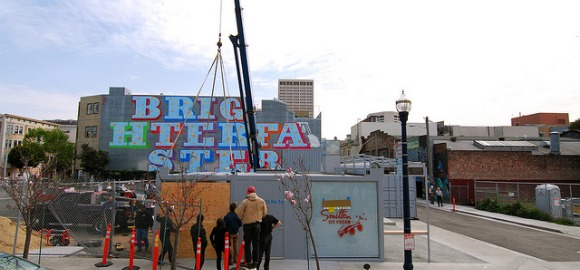 One of the most difficult aspects of trying to run a restaurant or small business in SF is the high cost of renting space. But what if you're a business owner and have a chance to build a temporary space for a few years, then pick up your store or restaurant and move it somewhere else?
That is the idea behind the Hayes Valley Proxy Project.
The idea was a collaboration between the city of San Francisco and Oakland-based architecture firm envelope Architecture + Design to do something with the unused land along Octavia Street between Hayes and Fell streets. The city was having a problem filling 12 vacant lots it owned along Octavia when the Central Freeway was torn down. Originally, it was meant to be affordable housing, but those plans fell through, allowing the Proxy Project to take shape.
"After the economic downturn in 2008, we had just submitted our planning permits for two other lots in the area. But by January, we realized that it was really going to be a problem if we kept proceeding with approvals on those lots because of the housing situation, as property values had changed so radically," said Douglas Burnham, principal with envelope A + D. "So we went into the mayor's office to ask for a formal extension. And it was at that meeting that Rich Hillis, the deputy director in the Mayor's Office of Economic and Workforce Development, posed an open question of what we would do on any of these vacant lots if we were to propose temporary uses. So we started to build a range of programs that we thought would be really interesting and that could exist on this shorter time scale."
Burnham said that sprouted the idea of the Proxy Project, where businesses and vendors are building their shops and eateries out of moveable shipping containers.
"We're building these things for our vendors. Our vendors own them so at the end of the project, they can pick up the containers and move them somewhere else," he said. "They will still be able to be in operation and not lose their investment. They are made to be used on an ongoing basis."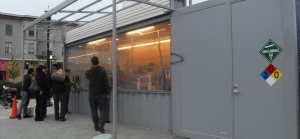 With the idea in its developmental stages, Burnham tried to gather information on whether people would be interested in being part of the project. And several quickly signed up, including Robyn Sue Goldman, owner of Smitten Ice Cream.
SF Station talked to Goldman earlier this year as she was preparing to open her shop. She said that although some of the costs exceeded what she expected and construction and permitting took longer than anticipated, she is excited about the "family atmosphere" of the project.
Although Smitten was the first shop to open at the site last month, the shop will soon have a new neighbor moving in, with Ritual Coffee Roasters hoping to officially open sometime next week, pending building inspections.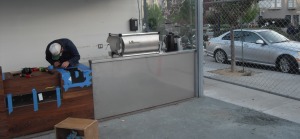 Ritual owner Eileen Hassi said she was first approached about the project after working with Burnham and envelope A + D at a food event. She said permitting was a long process, mainly because "it's permitting a new building, instead of a remodel inside a building." Even then, she said it is still less expensive than building out a regular coffee bar.
Hassi said she's excited about the prospects of turning the neighborhood into a destination spot.
"So far, people seem to be really excited about it," said Hassi. "Hayes Valley has changed so much in the past few years and this is just something else to make Hayes Valley a destination."
Karen Mauney-Brodek, president of the Hayes Valley Neighborhood Association, said residents believe the project will just add to the allure of the neighborhood.
"In general, I think there has been a very positive reaction (to the project)," she said. "Most people just want the neighborhood to get better and wanted to see positive activities on these parcels."
Development and a Plan for the Future?
The main question about the project is whether it can be viable now and in the future. And can it be a model for other parts of San Francisco and future redevelopment projects in the city?
"I think it has to be a certain kind of business. A business that either needs a high profile for a short period of time or needs an incubator kind of environment," said Burnham. "While the spaces are small, we think it will be a very high profile project. There's a bunch of empty lots downtown and on the edge of the Embarcadero and at the piers. So I do see it as an economic model, but I think the solution would be different at each of the sites. I don't see it as a universal solution."
Both Goldman and Hassi agree, saying the project gives them plenty of flexibility.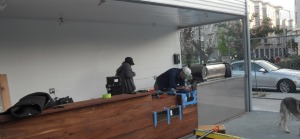 "We've built this container so that it can be picked up, moved and brought somewhere else," Hassi said. "It's exciting to have the flexibility to do anything and take it anywhere."
The Hayes Valley Proxy Project continues to move forward, with a beer garden coming from Suppenküche, a pizza project from Craig Stoll, who owns the Delfina restaurants in San Francisco, a shop for 4505 Meats along with several other rotating chefs, vendors and carts. Retailers have also been lined up.
The city is leasing the parcels for three and four years respectively and housing remains the ultimate long-term plan for the site.
The Hayes Valley Proxy Project is located at 432 Octavia Boulevard between Linden and Fell streets.
Main Photo Credit: envelope A + D, via Flickr