Quinoa is the New Cous-Cous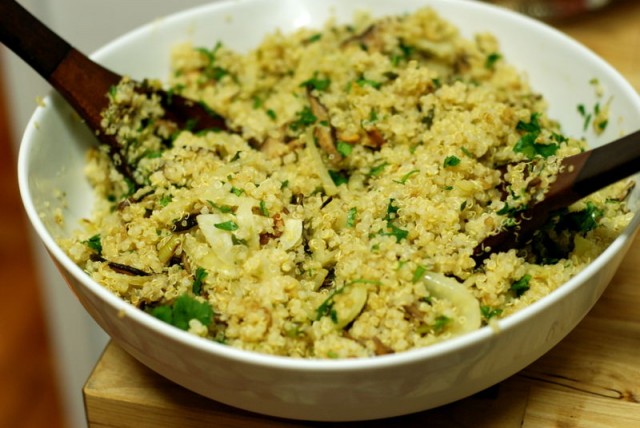 The health benefits of this trendy superfood are undeniable, but more importantly Quinoa tastes great!
When it came onto the culinary scene a few years back I was ready to dismiss this cous-cous wannabe as a short-lived fad. I was way off–quinoa is here to stay and this unusual seed has a lot more versatility in the kitchen than just your standard exotic imported grain.
The Ancient Incas were snacking on quinoa over 5000 years ago and today it's a favorite among health-conscious dieters who appreciate this protein-rich, gluten-free dining option, the perfect accompaniment to many diverse flavors.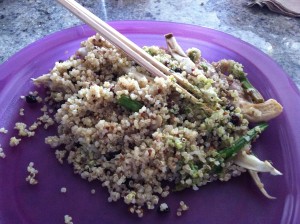 I was feeling particularly healthful one recent sunny afternoon in the city and decided to mosey on down to my local market–Real Food Co. (2140 Polk Street)–and see what they had to offer by way of quinoa.
Happy was I to come across several radically different selections all for around $5. One prepared quinoa plate appeared to have more of a Mediterranean flair with chopped pieces of eggplant and a tzatziki-looking paste drizzled on top. Unfortunately it was also containing small bits of celery, a vegetable I believe to be born of Satan, making it easier to narrow down my selection.
I went with a fresh mix of quinoa and red peppers with oyster mushrooms in a light, green pesto sauce. After purchasing my meal–along with a dollar package of Korean seaweed–I was ready to take my healthy lunch to the top of Russian Hill for a scenic and delicious affair above the rolling landscape of San Francisco. Packing the perfect amount of value with its tastiness, quinoa is light on the wallet as well as on the stomach.