SF's Happiest Hour: McCormick & Kuleto's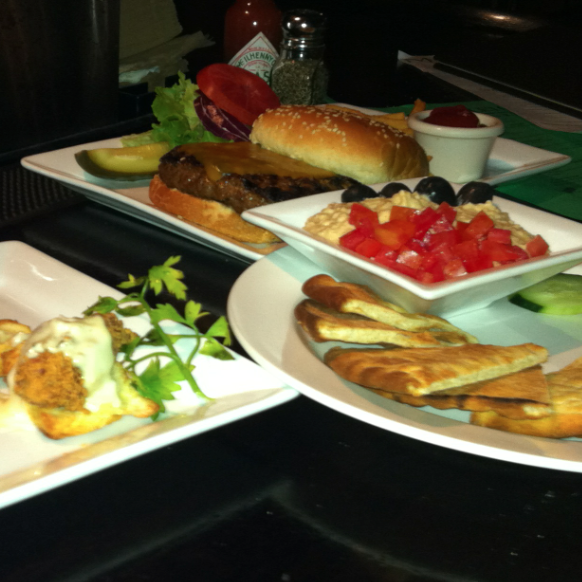 Today I start another popular segment that will be Twitter-trending in no time: SF's Happiest Hour. Armed with nothing more than an insatiable appetite and an impossibly small bank account I have taken to the streets of our fine city in search of the best bang for your buck.
And when it comes to hot-buttered bargains the especially-spirited hours between lunch and dinner are precisely when to butter your proverbial bread.
But I want more than cheap food. It's a great starting point, sure, but more importantly I'm looking for pronounced palatability…and is it too much to ask for a variety of dishes prepared with perhaps a modicum of dignity? Maybe nowhere else in the city can you find the quantity of food for the quality price offered at McCormick & Kuleto's evening happy hour (available Monday-Friday; 3-6pm). The menu is a culinary cacophony without rhyme nor reason. With dishes ranging from southern fried chicken sliders w/ jalapeño mustard to clams marinated in olive oil and garlic broth, even a stewed lamb curry–the only consistent threads here are affordability and succulent flavor. In fact, this happy hour features the best $3 1/2 pound cheeseburger you're likely to ever find in San Francisco. I personally challenge you to best it and would be thrilled to taste any supporting evidence.
All this great food at such little cost might lead a skeptical mind to wonder, 'what's the catch?' Do I need to swear allegiance to some suicidal cult, or perhaps worse, subscribe to an e-mail blast? So far as I can tell, the only downside is McCormick & Kuleto's (900 North Point Street) location – in the heart of Ghirardelli Square – happens to occupy real estate where no self-respecting San Franciscan would be caught dead. But you know what, if you like a good value, suck it up; you'll be treated to one of the best happy hour deals imaginable backdropped by one of the best views The Bay has to offer.
For up-to-the-instant updates on everything that is important in existence today, tune in live to GForce and the Japhman on SFStation Radio, Wednesdays from 12-2pm Pacific. Also…Remember, social media can be unsettling at times, so make sure to follow me as I gently lead you thru the Twitterverse: @braphe