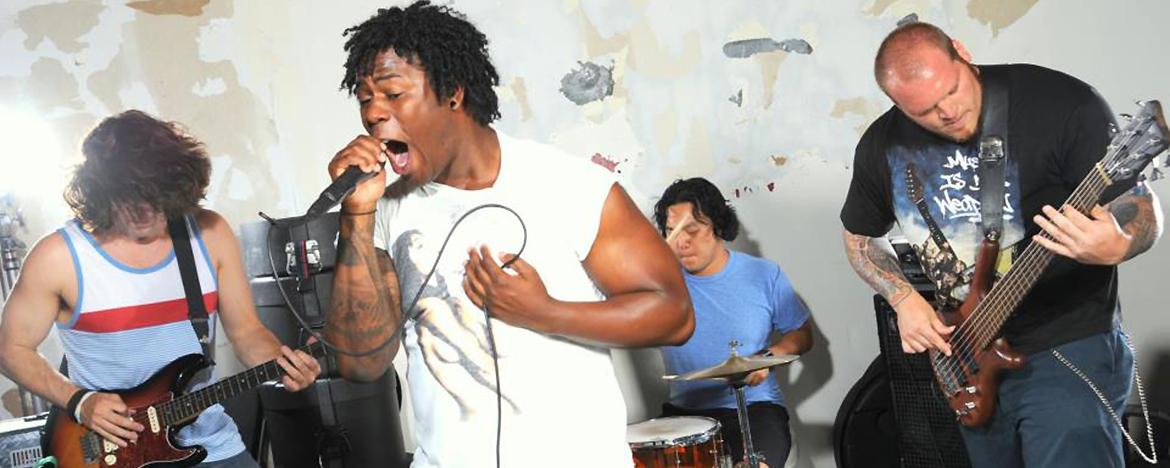 Q&A: Alt-Rockers Benvenue Play Hometown Show at Berkeley's Cornerstone
Once upon a time, two UC Berkeley alumns and former Cal football teammates bonded over their love of music in college and formed Bay Area alternative rock band Benvenue. Tonight they'll be headlining a hometown show at Cornerstone in Berkeley.
Benvenue consists of lead singer Francis Blay, guitarist Sid Slater, bassist Erik Robertson, and drummer David "Moon" Mun. Their collective sound segues from heavy riffs, lofty melodies, fierce grooves, and anthemic hooks, all while emphasizing a socially-conscious agenda. In preparation for their future EP release, they've released a series of singles and scheduled a local live show near their former campus.
In anticipation of tonight's show, we spoke to Sid and Francis to learn more about their formation and upbringing, some of their musical inspirations, as well as a few of their favorite spots in San Francisco.
~~~~~~~~

How did you decide on music over football?
Sid: I think it was more music was what actually brought us together in college. That's how we all got to be such good friends. It really strengthened our relationship. As far as choosing music, football kind of decides when it's done with you. So then after that, we wanted to pursue music. It was actually kind of an easy choice. I know for me it wasn't that upsetting to be done playing football because I knew I wanted to keep playing music.
Why did you move back to Northern California after living in LA?
Francis: I'm actually from southern California, an area called La Puente. When football is done, usually you return back to your roots and try to figure out what is the next step of your life is going to be. Coincidentally, Sid also moved down to LA to pursue music. He was going to M.I. (Musicians Institute). He was going to music school down there. It's so funny how everything works out. We went down at the same time. There's something about Northern California, obviously going to school in Berkeley, but it's a feel of living in the East Bay, the weather, the people. Since moving from Southern California to come up and play football, I always felt like Northern California was my home. We definitely want to pursue music and plant our roots back in Berkeley in the East Bay.
Who are some of your musical inspirations?
Sid: When we were in college, we definitely vibed together over Incubus. Sitting together and watching live DVDs of them. More recently, Thrice, is awesome. We're into them.
Francis: I go from a wide spectrum. There are so many things that influence me musically. I'm really into R&B, definitely into rock music, Foo Fighters. I'm into jazz. We're really into instrumental music right now. Musically, we always hear the Incubus thing, we always hear the Rage Against the Machine thing, the Thrice. There's so much music out there that needs to be heard. We assimilate too many things. It's hard to categorize yourself.
Sid: Plus there's a lot of stuff that we don't necessarily sound like at all. We're listening to this dude Tom Misch. Fucking killer. But he sounds nothing like us. If you're fans of us, it's not even close. We've just been digging him.
Francis: That's one of the things so beautiful about being in the Bay Area and definitely from being from Berkeley. You get exposed to so many different aspects of life, whether it be the food, the culture. Just walking down the street on Telegraph. It would be crazy for us not to say those don't influence us musically, cause they do.
What are your goals for the rest of 2019?
Francis: Musically, personally, I always want to stay true to myself and stay true to my band. Make sure the relationships we've built over 10 years we stay true to that. I feel like if we do that, then the goals will meet themselves if you just stay true to what you believe and treat each other right. It comes out in the live show. All the experiences we've had. We look forward to releasing some of this new music. I try my hardest not to set too many goals. We're going to meet them if we just stay true to ourselves.
What do you miss most about Northern California when you're touring on the road?
Francis: The food in Nothern California is absolutely amazing. The weather here is amazing. One of the things I always miss, you walk down the street and get different smells. The fog layer that comes in the East Bay. It's nothing I've ever experienced in my life. When I leave Berkeley and come back, it's an overwhelming feeling. If you blindfolded me and brought me back, I would know I was in Berkeley.
And the views. Now that the stadium is redone, the view from the locker room is like one of the top 10 best views in the world. Just seeing the San Francisco Bay and the Marina. You can't beat it. It's priceless right? Anyone who's never experienced it and gone to a great show at The Greek. There's this dormitory, Bowles Hall, that's right next to it. It was such an influence for us. You would hear bands playing as we were coming back to our room. Sid and I and Eric always thought (about) how awesome would it be to play the Greek Theatre. How does that not influence a 22-year-old trying to figure out life? I would die and go to heaven just to be able to play the Greek Threatre. 100%. I don't know what it is about that place. It's magical.
Speaking of venues, Cornerstone in Berkeley, how did you find out about this venue to play there?
Sid: Fran, Erik, and I think we're cruising around town one day and stumbled across it?
Francis: Our first show was at a place called Blake's. It was like a bar area, but it was weird, you could go downstairs. That was the first three shows we played. It was so exhilarating to be playing in Berkeley. We definitely wanted to come back and play at Cornerstone. It's the up and coming venue in Berkeley. We're paying a lot more attention to bands coming through there. It feels good to be home and be able to play in a city where you're from. It feels good. It feels right.
Where are some of your favorite spots in San Francisco?
Sid: I lived out there. I just moved out (from SF) a year or two ago. I lived in Outer Richmond. I'm personally partial to that side of the city. Ocean Beach, Lands End and shit. That's my jam down there. I just went to a place called Hockey Haven last weekend, it was kind of going back home a bit. A very little bar, but a cool place.
Francis: I lived in Oakland for almost seven years, I would always come to visit Sid in the Sunset. That was way back, off of 41st. I just used to love going to Golden Gate Park. When Outside Lands started, we went the first four years. It was like something I never experienced. I remember one year we went, it was 100 degrees. Another year it was fogged in. Outside Lands in the Sunset always has a special place in my heart. I'm a huge fan of The Fillmore. I absolutely love the venue. The Independent. Also, Cafe Du Nord. The crazy party that's hard is that the Bay Area has so much to offer for anybody that's interested in music, and food. Your weekend gets filled up quickly. We're blessed to represent the San Francisco Bay Area and Berkeley because it means so much to us.