Where to Enjoy Fourth of July Fireworks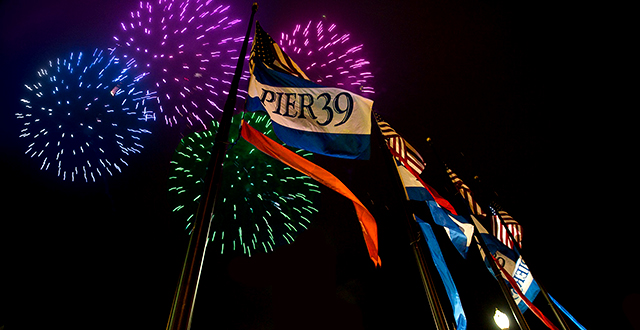 Fireworks! BBQ! A four day weekend! Summer is here and it's the time to sit back, relax, and enjoy friends and family. Many Bay Area cities are planning events to celebrate Independence Day. Here are our picks on the best places to enjoy the fireworks around the Bay Area.
~~~~~~~~
San Francisco
~~~~~~~~

Live entertainment on the Entrance Plaza Stage featuring Mustache Harbor – Yacht Rock Explosion from 3-6pm! Free. Fireworks at 9:30pm.
~~~~~~~~

San Francisco Belle July 4th Fireworks Buffet Dinner Cruise
Celebrate July 4th on the San Francisco Bay with your friends and family. Step aboard the San Francisco Belle for this three and a half hour cruise. Enjoy a full dinner buffet, hosted premium wine & beer and a DJ for dancing.
~~~~~~~~

Fourth of July Premier Dinner Dance & Fireworks Cruise
A 4-hour cruise. Spend Independence Day in style on the Bay. Cruise includes a four-course seated dinner, a spectatular view of the fireworks over the bay, live entertainment and an open premium bar. 6:30pm – 11pm.
~~~~~~~~

Red and White Fleet Fourth of July Fireworks Cruise
Come aboard the Red and White Fleet to enjoy fantastic views of San Francisco's spectacular 4th of July Fireworks. Red and White Fleet's historic ferry boats offer outdoor decks to view the show, as well as indoor spaces to warm up during the cool San Francisco evenings. A full bar is available onboard, with one beer, wine or soda included in the ticket price. 7:45pm, 7:50pm, 8:15pm, 8:20pm.
~~~~~~~~

Speakeasy 4th of July Pier Pressure Fireworks Cruise
Celebrate July 4th in San Francisco with a party experience on the water aboard the Fume Blanc Commodore. Two DJs and dance floors. The ship has large, indoor panoramic windows and an open sky deck. Check-in begins at 6:45pm, boarding 7:30pm, cruising at 8pm and disembarking at 11pm.
~~~~~~~~

Crissy Field to The Embarcadero
In San Francisco, the fireworks will be launched from the foot of the Municipal Pier and from barges north of Pier 39 at Fisherman's Wharf at 9:30pm. So most spots along the shore will offer a decent view. The best spots are south of the Ferry Building along the Embarcadero between Mission and Folsom Street.
~~~~~~~~

Ina Coolbrith Park is a great little green area above it all where you can take a bottle of wine and take in the visuals below.
~~~~~~~~

It'll be crowded up here but the views are amazing if you get a good spot.
~~~~~~~~

Treasure Island is a little more difficult to get to but still an amazing place to view the fireworks. The skyline behind the show is an unparalleled backdrop, about as perfect as you can get. If you're more adventurous head up to Yerba Buena Island to view the fireworks from the cliffs.
~~~~~~~~

A trip up Bernal Hill will get you to huge open area where you'll be able to take a blanket and your favorite sippy cup to take in the splendor to the north.
~~~~~~~~

You can't get any higher than Twin Peaks for an unobstructed northerly view; if it's not foggy. From this vantage point you'll have a little more space to possibly plop down a folding chair or blanket and take in the fireworks.
~~~~~~~~
East Bay
~~~~~~~~

There's live entertainment from 12noon – 10pm on the main stage including Downtown Rhythm, Groovy Judy, SadzaMoto, Berkeley High Jazz Ensemble, Kippy Marks Improv-o-linist. In Shorebird Park you'll find jugglers, magicians and other circus art performers. There'll also be art & crafts, yummy food, massages, free dragon boat rowing, pony rides, a dunk tank, and much more. Fireworks over the Berkeley Pier at 9:35pm. Note: No cars allowed entrance after 6pm.
~~~~~~~~

Fireworks Cruise on the USS Potomac
Those in Oakland looking for a cruise option should consider Franklin Roosevelt's "Floating White House", known formally as the USS Potomac. The ship will travel to various fireworks locations along San Francisco Bay. On board, hosts will serve desserts, champagne, tea, and coffee.
~~~~~~~~

Live music and entertainment with multiple bands throughout the day. 2pm – 10pm. View of Bay Area Fireworks! (Weather permitting) Begin around 9:15 pm. Bring a warm jacket! Get Tickets!
~~~~~~~~

There will be a host of July 4th events in Concord including a pancake Breakfast at 7:30am, 5k run and walk at 8am, a parade at 10am, and food and drink booths at a town festival (until 3pm). Fireworks start at 9pm.
~~~~~~~~

A panoramic view in the Berkeley Hills where you can see various fireworks shows over the Bay.
~~~~~~~~
Peninsula
~~~~~~~~

Shoreline Amphitheatre in Mountain View
Join the San Francisco Symphony for an evening of music of Star Wars, chart-topping pop performed by renowned Broadway vocalist Capathia Jenkins and American Idol finalist Constantine Maroulis, selections from famous film scores, a salute to our Armed Forces, and more—culminating in a grand finale of amazing fireworks. Performance begins at 8 pm. Get tickets here.
Shoreline Lake in Mountain View
Post up at this man-made, 50-acre, salt water lake filled by waters pumped in from the San Francisco Bay that circulate back out into Permanente Creek. There will be a big barbecue picnic on the 4th from 11:30am – 6pm leading up to the fireworks show. Visitors can enjoy the fireworks from a pedalboat, rowboat, canoe or single/double kayak in the middle of the Lake, with friends and family. Make a reservation: 9pm – 10:15pm.
Foster City Fireworks & Festivities
One of the biggest Bay Area Fourth of July celebrations happens at Leo Ryan Park in Foster City. Starting at 9am, it's a full day of fun with a family and dog parade, family games, live music and the massive fireworks show that starts at 9:30pm over the lagoon. Walk through the park where you can purchase food, visit booths of local artists, and check out the children's rides. (Free event)
~~~~~~~~
North Bay
~~~~~~~~

Fireworks take place every night of the Fair, shot from three barges over the lagoon in a low-level, safely choreographed extravaganza of music, rockets, Roman candles, comets, meteoric showers and spectacular bursting cascades – all beautifully reflected in the water below. Bring the entire family and enjoy this amazing show every night of the Fair, from July 3 through July 7 at 9:30pm. The fair is open from 11am-11pm.
~~~~~~~~

Festivities begin at 10am with a parade down the streets of Sausalito beginning at Second and Main Street in oldtown Sausalito. The parade route will wind along Bridgeway and Caledonia and end at Dunphy Park – roads closed until 12:30pm. Picnic with live music, 12noon at Robin Sweeny Park. Plus an evening of music and food trucks at Gabrielson Park from 6:30pm – 9pm. The celebration ends with fireworks over San Francisco Bay at 9pm.
~~~~~~~~

4th of July Parade & Fireworks in Napa
Independence Day festivities kicks off at the Napa County Fair with a parade, carnival, food, games, music, golf ball drop, and of course, fireworks. Showcasing local wines and arts. 12noon – 11pm.
~~~~~~~~

Pancake Breakfast, 7am – 11am. Celebrating America's Heroes Patriotic Parade at 10:30am, Fourth of July Celebration & Festival, 12noon – 9:30pm. This family-friendly festival includes a flag raising ceremony, children's games, food vendors, live entertainment, and ends with fireworks at 9:30am at Community Park. The Phillip West Aquatic Center will hold Open Swim from 1:15pm – 4pm. Fireworks Hike at 8pm at Newell Open Space Preserve.
~~~~~~~~

Star-Spangled Social in Calistoga
Independence Day festivities kicks off at the Napa County Fair with a parade, carnival, food, games, music, golf ball drop, and of course, fireworks. Showcasing local wines and arts. 12noon – 11pm.
~~~~~~~~

St Helena Community Band Concert, 5:30pm at Lyman Park and the fireworks show will illuminate Crane Park with the wonderful colors of the rainbow at 9:15pm. Parking (street parking only!) is very limited. Please walk or bike to Crane Park.