OUT of Site: SOMA Offers Queer History Walking Tours for Pride Month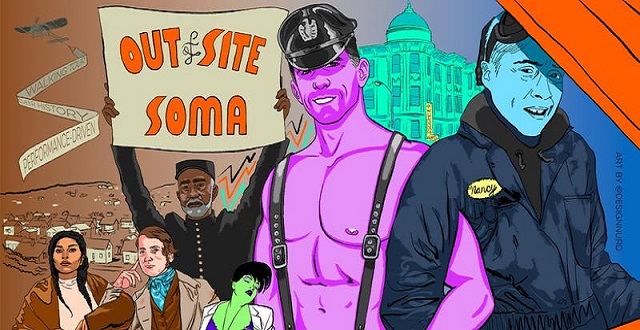 One of the many activities celebrating diversity and Pride month will be four days of performance-driven, queer history walking tours that rediscover the South of Market neighborhood once known as Happy Valley. Local transdisciplinary ensemble theater company Eye Zen Presents will perform OUT of Site: SOMA; placing audiences in the physical spaces of LGBTQ2+ ancestors with scenes spanning a generation of stories.
OUT of Site was launched last spring by Eye Zen Founder and Artistic Director Seth Eisen. This year, the project continues with a spotlight on SoMa; highlighting Native American Two-Spirit culture, the Folsom Street Fair, lesbian auto mechanics, labor activists, dock workers, drag queens, the world's first "Leather and LGBTQ Cultural District" and the nearly-completed Eagle Plaza. The cast features Kai Brothers, Maria David, Brian Freeman, Marga Gomez, Ryan Hayes and J. Miko Thomas aka Landa Lakes.
~~~~~~~~

OUT of Site: SOMA
Saturdays, June 8th & 15th at 12 noon & 3pm
Sundays, June 9th & 16th at 1pm
meet at Howard Langton Community Garden, 10 Langton Street, in San Francisco