Secession Art & Neighborhood Support for Merchants Affected by Mission Bernal Fire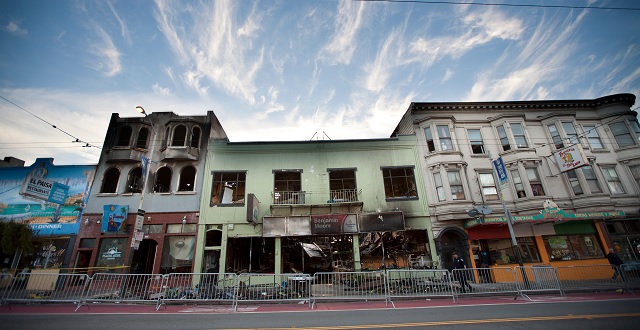 Following the huge, five-alarm fire in Mission Bernal on the 3300 Mission block last Saturday, June 18, Secession Art & Design and the Mission Bernal Merchants Association have teamed up to help local merchants rebuild after the devasting fire.
Nine businesses were seriously damaged, more than 50 residents have been displaced, and two people were injured as a result of the catastrophe. Secession Art & Design and the Mission Bernal Merchants Association created a fundraising page for anyone interested in donating directly to the merchants that suffered from the fire. Funds will help these businesses recover, relocate, and start the rebuilding process.

Photos by Eden Stein
The fire, for which the cause is still unknown, started around 2:30pm at 29th and Mission Streets and spread to six buildings. Among the business impacted by the flames were Mexican restaurant Playa Azul (3318 Mission St.) and long-running dive bar 3300 Club (3300 Mission St.).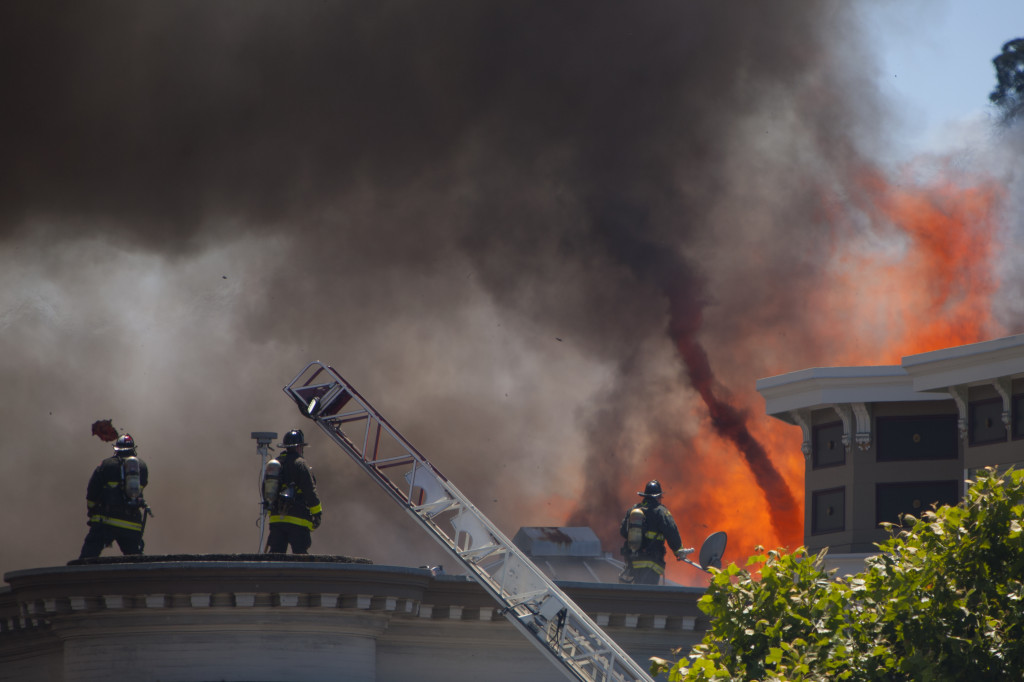 Photo by Jonathan Koshi
Secession Art & Design opened in Bernal Heights back in 2007 and has since grown to represent more than 50 independent artists and designers. Their retail location operates as a gallery, boutique, and workspace combined, creating a non-traditional storefront for customers to experience curated shows by owner, Eden Stein.
In 2010, 2012-2014, Secession was awarded "Best Art Gallery" by San Francisco Bay Guardian readers, in 2010, 2012, 2013, and 2014, for continuing to push the envelope in exhibitions and wearable art.
Emergency demolition of unsafe structures could begin tomorrow, according to city engineers. Here, a list via Modern Luxury that gives a breakdown of places that suffered damages and to what extent.
3300 Club 

3300 Mission St.
The building of the popular bar is intact, but the floor and ceiling were both damaged by the water used to fight the fire. Shukry Lama, whose family owns 3300 Club, posted on Facebook that the bar is committed to coming back. "Everything is water logged but it doesn't look as bad as the rest of the building. We will rebuild."
Graywood Hotel 
3308 Mission St.
The facade of the single-room occupancy hotel upstairs from the 3300 Club remains standing, but the fire department still needs to confirm that the hotel is safe before residents can return and collect their belongings,per NBC Bay Area. No word yet on the fate of the hotel itself.
El Gran Taco Loco 
3306 Mission St.
This morning, the El Gran Taco Loco said on Facebook that they are still unsure how much damage the restaurant suffered in the fire. They're remaining closed until further notice.
Cole Hardware 
3312 Mission St.
The building that housed the store is "gone," according to Cole Hardware's Twitter. In response to a customer asking when they'll return, the store said this on Facebook: "Cole Hardware does not own the property so that decision is not up to us. With the building still being red tagged by the fire department it is too early to make any legitimate guess at what will happen, but it would be our hope to be able to return."
Playa Azul
3318 Mission St.
Photos and videos from Saturday showed flames shooting from the Mexican restaurant. The building, according to Bernalwood, is "gutted" and likely won't be reopening any time soon.
Coronitas 
3326 Mission St.
The bar was closed on Sunday. While the bar's pages on Yelp and Google Maps don't say anything about a permanent closure, their phone appears to be disconnected.
Lacayo & Associates 
3330 Mission St.
The law firm is back to business as usual and is open its normal hours today.
La Alteña 
3346 Mission St.
Although the restaurant was closed yesterday, the building escaped the worst of the fire and opened at 10 a.m. today as usual.
Bernal Heights Collective
33 29th St.
This morning the dispensary posted on Facebook: "No word yet on facts or news, but suffice to say, we may be closed today…stay tuned." While their phone line appears to be working, repeated calls to the business went unanswered.