Oakland's Itani Ramen is Now Officially Open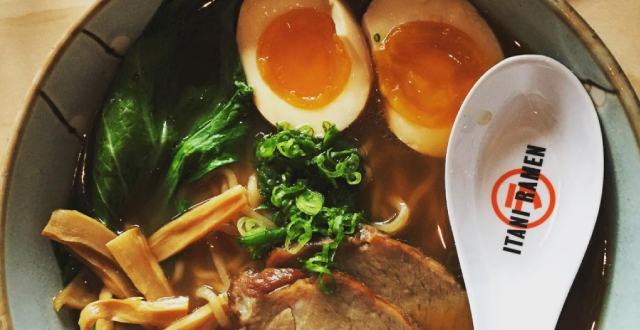 After a successful pop-up run, chef Kyle Itani opened, as of yesterday, a permanent Itani Ramen, focusing on regional Japanese cuisine fueled by sake, shochu (a traditional distilled alcohol) and draft beers.
Itani and Executive Chef Brian Ikenoyama, are joining an already impressive group of East Bay ramen shops, offering a seasonal menu in which the insanely popular soup is the main star. While most of the ramen offerings will sound familiar to the members of the soft-boiled egg cult, it's the appetizers that may surprise and tantalize; Crispy Pig Ear in lime and house-made shichimi pepper, Egg 3 Way with Uni and ikura, jidori chicken egg and more.
Among the ramen offerings, the cold Nanban Zuke Ramen, with pickled sardines, jicama, peppers and green onion, is shaping to be a curious summer option. Other fun gimmicks and innovations include a dessert vending machine offering Soy Ice, Pocky and It's-It Ice Cream, refreshing yogurt drinks and ice-cold shochu shots–just don't consume all this goodness at once!
1736 Telegraph Avenue, Oakland