'Sharktoberfest' Celebrates Sharks in San Francisco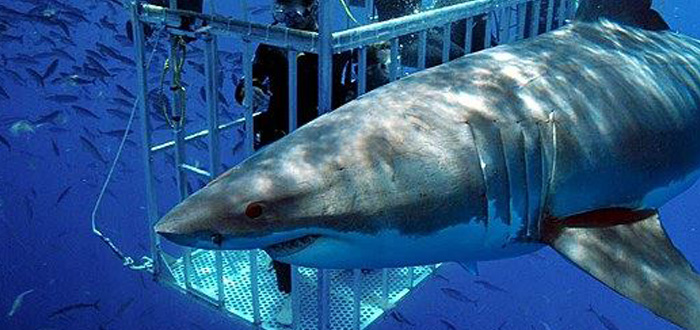 While the Discovery Channel and the rest of the cable TV-watching world have "Shark Week" each summer, here along the Northern California coast we get an entire month of celebrations in the fall with "Sharktober."
Named for the time of the year when great white sharks start reappearing in local waters more frequently—particularly around the Gulf of the Farallones off the coast from San Francisco Bay—"Sharktober" is a theme adopted by local conservancy groups and other agencies in an effort to expand public knowledge about the animal
There are several events and programs scheduled to take place throughout the Bay Area this month, starting with Sharktoberfest NightLife on October 3 at the California Academy of Sciences in San Francisco's Golden Gate Park. As part of the institutions' weekly series of adults-only events that combine a festive party atmosphere with a scientific or environmental theme, "Sharktoberfest" will feature a variety of talks and film presentations, all focusing on sharks.
"We want to try to reverse the perception that sharks are evil and harmful, and try to turn it around to 'sharks are cool' and really important to our local ecosystems," says David McGuire, a Research Associate at the California Academy of Sciences who will be leading a discussion at the event. "It's really a celebration of sharks all month long, to raise awareness and to heighten attention to the fact that sharks are endangered, sharks are threatened and the health of the ocean is suffering because of that."
McGuire is also the founder and director of Shark Stewards, a local nonprofit conservation group, and he has studied, written about and filmed sharks extensively.
"I've always been in love with the ocean and marine life," he says. "I grew up as a surfer, diver, and sailor and I studied marine biology. I've crossed a lot of oceans, and I've see the oceans change in my lifetime, and like most people, I've always been intrigued with sharks."
In addition to taking in talks and films, shark fans will be able to sip on local beers (hence "Sharktoberfest"), listen to music and take pictures in front of one of the largest shark cages in the world.
McGuire hopes that events such as this, and others taking place throughout October will not only entertain guests, but also enlighten them and expose them to some very real threats that sharks are facing today.
"I was on an expedition to the South Pacific in 2003, and that was where I learned about the greatest emerging threat to sharks, which is killing them for their fins."
"Shark Finning," as the practice is simply called, is a procedure where fishing boats catch a large number of sharks, cut off their fins and throw them back into the ocean, often alive at the time, where they will eventually die without being able to move around properly.
These fins are then used in Shark Fin Soup and other concoctions in predominately Asian countries, where they are highly prized.
Two years ago when Gov. Jerry Brown signed AB 376, which banned the possession and sale of shark fins in California, a decision protest by some as discriminator toward the Chinese community.
Among the many other projects McGuire has worked on in recent years is a book that was published last year, written by shark attack survivor Jonathan Kathrein, who was bitten just north of San Francisco at Stinson Beach.
"We're trying to work with people who have every right to fear and hate sharks—and they are actually speaking up in support of sharks," McGuire says. "The reality is that most sharks are harmless, they don't attack people intentionally and it's really humans that are putting sharks at risk. Rather than revile sharks we should revere them."
In addition to the California Academy of Science event, the Gulf of the Farallones National Marine Sanctuary is hosting another "Sharktoberfest" event on October 5 at its visitor's center in the Presidio in San Francisco. A variety of drop-in activities are planned, including talks about sharks and live entertainment.
Organizers there also stress the importance of educating people while they are having fun and hope to dispel some of the major misconceptions that the public may have about sharks.
"The first misconception is that sharks are vicious menaces that seek out people to attack," says Mary Jane Schramm, media and outreach specialist for the Gulf of the Farallones National Marine Sanctuary. "In reality, white sharks come here in fall to hunt seals and sea lions. It's a case of mistaken identity. To an ambush predator swimming below the surface, the silhouette of a seal or sea lion looks very much like that of a surfer or boogie boarder."
Several arts and crafts activities are planned for the event, such as "Shark Printmaking" and "Build A White Shark," so families will have the opportunity to expose their kids to the world of sharks and help educate them at an early age.
For more information on these and other "Sharktober" events, visit the following websites:
www.calacademy.org/events/nightlife/
http://farallones.noaa.gov/
http://sharkstewards.org